Miscellaneous Information
What's happening in the future?!
A list of Elton's 2006-2007 concerts can be found on www.eltonjohn.com
I hope you all get to attend at least one of them this year!
* * * * *
ELTON IN THE NEWS - NEW AND OLD ARTICLES
February 18, 2003 - Moments after getting a standing ovation at the AMAs for his "Tiny Dancer" duet with Tim McGraw, an elated Elton John confessed his surprising admiration for country music. "I grew up loving Jim Reeves and people like that, and Hank Williams said the pop superstar. "I played on an Earl Scruggs record, which was great. So if Tim wants me to play piano on something, I'll definitely do it." How cool would that be?
April 21, 2004 - Elton joined Sting and others on stage for the Rainforest Foundation benefit concert April 21, 2004This year's Rainforest Benefit concert took place at New York's Carnegie Hall. The event was titled "Singing in the RainForest" and the theme was 'Songs from the movies are given the Star Treatment'. Artists included Sting, Elton John and James Taylor plus other celebrity guests.
June 17, 2004 - Billy Elliot musical close to Elton's heart
Elton John launched the new Billy Elliot musical today and told how the story mirrored his own life. The hit British film has been adapted for the West End stage and Elton John has written the music. He unveiled four of the songs today as he explained why the subject was so close to his heart.
The story of Billy, a young boy who dreams of becoming a ballet dancer in the face of fierce opposition from his father, has close parallels with his own struggle to make it in the music business.
June 22, 2004 - Brian Wilson's new album Gettin' in Over My Head (Rhino) is notable for the high-profile collaborators, which include Paul McCartney, Elton John and Eric Clapton.
July 1, 2004 - NOT YOUR BABY BARBIE: Barbie dumped Ken -- and now she's got a new designer look going on. Versace Barbie hits stores July 1 -- with all royalties going to the Elton John AIDS Foundation. The Versace version is the latest in a series of couture Barbies.
November 2004 - Peachtree Road is out in the stores now, and I know you all have your copy now. So, what do you think of it? What's your favorite/worst songs on the album? Anything you don't like about the album(like not having the song lyrics in the album notes) or something you really love about the songs? Post your thoughts about it on my message board. And which song/songs would you like to have Elton sing in his concerts?
NOVEMBER 2005 - Elton will begin work on a new album in January 2006. It's reported he will be working on it in Atlanta, in between concert trips out to Las Vegas. It will be interesting to find out what the name of the album will be and what king of songs we'll be hearing on it. I know we'll looking forward to it when it's in the stores.
___________________________________________________________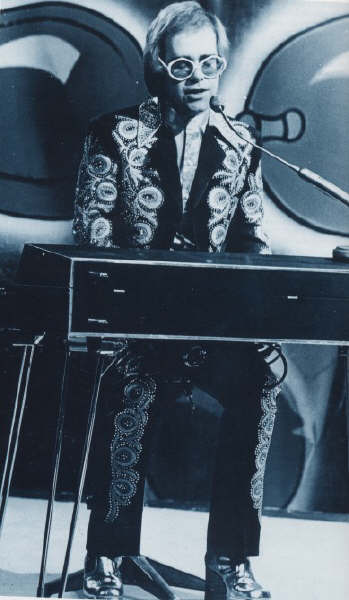 Have a comment?
Send me an Email I'd love to hear from you!
PLHolecko@gmail.com